METEA COUNTY PARK 
NOTICE: Allen County Parks believes that the upcoming holidays are meant to be spent with family and friends!! So that our employees may spend the holidays with their loved ones the following hours will be in effect:
Wednesday, November 23, 2016 –  Parks will close at 4:00 pm
Thursday, November 24, 2016 THANKSGIVING DAY – PARKS WILL BE CLOSED!!
December 24th - Parks will close at 4:00 pm
December 25th CHRISTMAS DAY – PARKS WILL BE CLOSED!!
December 31st - Parks will close at 4:00 pm
ALL OTHER DAYS WILL BE OUR NORMAL WINTER OPERATING HOURS OF 9:00 am to 6:00 pm. Nature Center hours are 10:00 am to 6:00 pm
For upcoming events – see calendar at right hand bottom of this page! Please note most programs have a pre-registration date!!
PLEASE NOTE: In August 2012 the Indiana Department of Transportation started renumbering all exits for Interstate 69 due to the southern extension of the highway. Exits in Fort Wayne are now numbered 200 higher than they used to be. Instead of using Exit 116 to get to Metea County Park the exit is now number 316. As of August 31st all exits both northbound and southbound have been renumbered. If you are using GPS to get here the GPS maps will not be updated for awhile.

Click to make larger
Location:
8401 Union Chapel Rd.
Fort Wayne, IN 46845
Phone: 260.449.3777
Fax: 260.627.5314
Metea County Park is a 250 acre park in northcentral Allen County near Leo Cedarville, containing the 120 acre Meno-aki State Nature Preserve. The north and south areas of the park are separated by Cedar Creek, a state designated scenic river.
The entrance to the southern portion of the park is off Union Chapel Road near its intersection with Leo Road (SR 1). The northern portion of the park can be accessed off Hursh Road between Puff and Halter Roads.
Metea County Park was named for the great Potawatomi leader whose village on the north bank of Cedar Creek near its mouth was close to the boundary of the current park. Metea's village was called Muskwawsepeotan, which means "town on the old red wood creek". The village, the southeasternmost Potawatomi village in Indiana, was settled sometime after 1795, when the Potawatomi tribe first moved into northeastern Indiana from the area of the St. Joseph's River of Lake Michigan near modern South Bend.  To learn more about Chief Metea click here to visit the Friends of Metea website page which has excellent information about Chief Metea.
The park offers an undisturbed tranquility that can't be found anywhere else in this area and is one of Allen County's greatest treasures.  Hear the birds sing, listen to the crickets chirp, watch the flash of minnows in the water, all here at Metea County Park.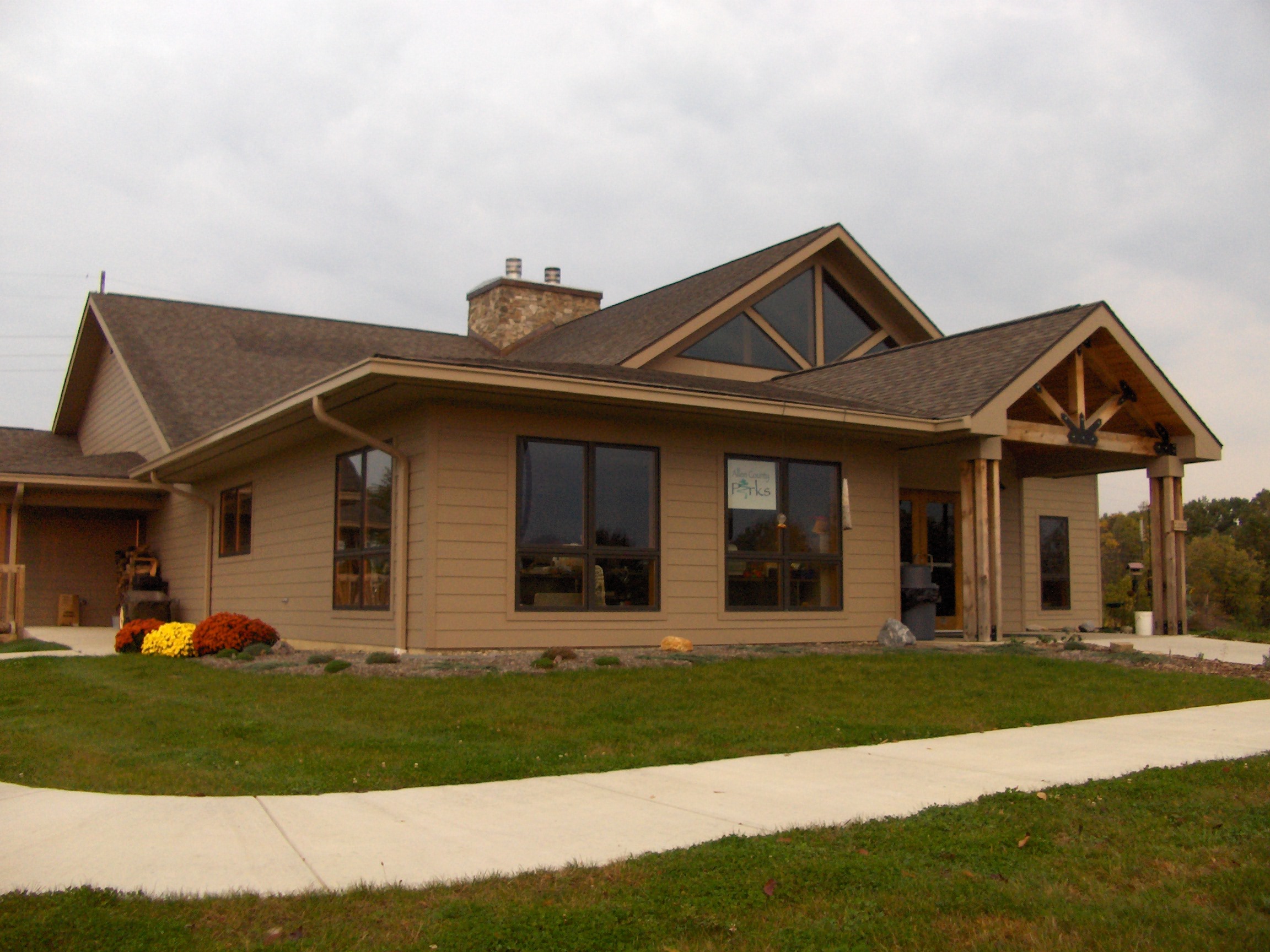 Park amenities include:
Gloria Goeglein Nature Center with classrooms and conference room available for rental, education offices, gift shop, exhibits, indoor bird watching area, and restrooms
Five miles of trails
Woodlands
Wetlands
Grills
Picnicing
Campfire pits (by PERMIT ONLY)
1.5 acrea lake with swimming beach (No lifeguard on duty, swim at your own risk)
Fishing (additional $2 per person, must possess a valid Indiana fishing license)
Large playfield
Reconstructed prairie
Old fields
Picnic shelter
Cedar Creek (a state scenic river)
The north portion of the park is undeveloped, with hiking trails through rugged and varied terrain.
Cross country skiing in the winter with four inches of snow or more, a limited number of ski equipment is available for rental at a small additional cost.
 Creek study at Metea County Park

  Click on picture for a map and links to directions to Metea County Park