The Allen County Parks Staff mourns the loss of one of our own, Julie Lewis.
Julie passed away on November 16, 2023 after fighting the good fight with her health the last couple of years.
Julie was our Office Manager, but also a great friend.
Our thoughts and prayers are with her family during this time.
"No Longer In Our Sight But Forever In Our Hearts"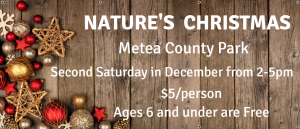 Allen County Parks Master Plan  2023-2027
NOTICE: FOX ISLAND COUNTY PARK IS CLOSED UNTIL FURTHER NOTICE DUE TO EXTENSIVE STORM DAMAGE TO THE PROPERTY. WE APOLOGIZE FOR THE INCONVENIENCE! It appears that we will remain closed  for all of 2023! See link below for an update on the situation! Please DO NOT attempt to enter the park under any circumstances. We will be forced to call law enforcement if you are found in the park!
Click here to go to the Fox Island Storm Damage page
Allen County Parks Mission…
"To establish and manage a permanent park system incorporating conservation, education, outdoor values, and nature preservation, and to provide recreational opportunities for the people of Allen County within this structure"
Allen County Parks provide:
Natural areas for recreation and nature study

Environmental education for thousands of Allen County school children

Natural and cultural history programs of all ages

Careful management of county park system resources to maintain and increase natural diversity and recreational opportunities

Rental facilities in a beautiful natural setting
Allen County Parks are owned by the people of Allen County and are operated by the volunteer Allen County Parks Board, appointed by area public and elected officials. Allen County Parks are funded by Allen County government and by user fees, facility rentals, program fees, grants, donations, and gifts. Staff salaries are provided by county tax revenues, with ALL operating and maintenance expenses supplied by user fees and other sources. Thanks for visiting our website! Come visit us in person, we'd love to have you and we're sure you will enjoy your visit. Click on any of the pages on the right to find out more information about the parks and programs we offer. Click Here for our Programs Calendar To view this document requires Adobe Reader. Don't have it? Get it for free at http://get.adobe.com/reader/
PLEASE NOTE: We do NOT accept credit cards. Payments must be cash or check!
Anywhere you see an email contact please replace the "at" with @ (sorry for inconvenience and thank the spammers and our web host who can't keep them out!)
Become an Allen County Parks Facebook fan! 
Allen County Parks on Facebook  
We've moved our Administrative Offices! We are now located at the below address.
Allen County Parks Administrative Offices
Allen County Hanauer Reserve
3022 Easterday Road Fort Wayne IN 46818
Phone: 260.449.3777 Fax: 260.627.5314